Every shipment you send is your chance to speak directly to your customers. To deliver more than just a product, but also your brand core values, mission statement, and more. For over a decade, we've specialized in packaging that communicates™. The freedom is yours to decide what it is you want to say. There are many printing options, potential designs, mailer styles and sizes, but ultimately our products are custom made to your specific needs and requirements.
Printing Capabilities/Options
Flexographic Printing
Ideal for most 1 or 2 color designs, flexographic printing is by far the most common and lowest-cost printing method for corrugated. When done well, flexo printing can deliver clean, sleek, beautiful results. Reverse prints, flood coats, repeat patterns and coatings are all possible. Whether it's a simple 1 color print on kraft, or a more complex multi-color design, we've done it all.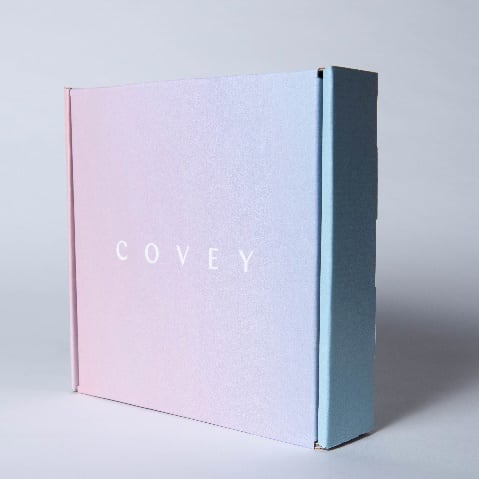 Digital Printing
Still widely popular in cases where complex graphics are needed on corrugated board. Digital printing offers virtually limitless potential to print anything you can dream of, while also offering various finishes and/or glosses on Kemi board, or a more matte-looking finish on mottled white board.
Litho Labels
An alternative option to digital printing, depending on graphics, mailer type/size and most importantly, order volumes, this long-standing printing variation makes the most sense on one-time gift or promotional packaging when eye-catching results are needed.

Style and Design Capabilities/Options
Standard Die Cut Mailers
Increasingly popular for many subscription services and other ecommerce applications, corrugated die cut mailers are versatile both in terms of graphic and structural design capabilities, as well as a variety of available flutes (board thickness). Most commonly made in a lock front or top tuck style. We have over 200 cutting dies in house, as well as the ability to create a custom die in cases when a particular flute, style or size combination is needed.

RSCs
No longer just plain, brown boxes used in warehouses or for storage. Advances in equipment and design capabilities have made RSCs a great option to ship certain larger, bulkier or heavier items safely without sacrificing presentation or style.

Innovative/Unique Designs
Indestructo style mailers, our innovative and unique Ta-Da Box™ design (as pictured), mailers with built-in inserts. These are only a handful of many of the unique designs we've engineered for customers looking for eco-friendly board/materials savings, cost savings or simply a style and appearance that is tailor-made for their products or application. The beauty of custom products is that virtually anything is possible with our experienced and knowledgeable design team.